The Threat of Brain Injury in Slip and Fall Accidents in Bucks County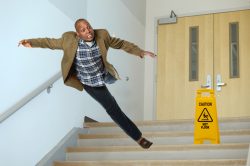 When visiting public places such as stores and government offices, you should not have to worry about your safety. However slip and fall accidents on unsafe premises, are still a common cause of serious personal injuries and often traumatic injuries. Sadly, these injuries can be to the spine or head, making them a grave threat to the victims future quality of life. Fortunately, New Jersey's premises liability laws allow you to pursue just compensation for all related injuries and damages, even when your injuries cause a lifetime of disability.
With an accumulative 40 + years experience in Bensalem, Levittown, Feasterville, Millbrook, Penndel all over Bucks County and the rest of Pennsylvania, Cohen & Riechelson, are experienced attorneys skilled in safeguarding impartial compensation for our clients. The numerous successful cases that we have supported have earned the trust of a wide array of clients. Our extensive and evidence-based method involves cooperation among our highly-accredited attorneys. To discuss your exclusive circumstances with a member of our highly able personal injury team free of charge, contact us online or at our Bensalem offices anytime at (215) 337-4915. An honest and complete case evaluation is the first step toward obtaining a desirable outcome.
North East Philadelphia Brain Injuries from Falls
It should be noted that falls result in 35.2 % of traumatic brain injuries (TBI). Even though not all head injuries are serious, the Centers for Disease Control and Prevention evaluates the financial cost of TBI in 2010 at just over $76 billion. The brain is the major component of all bodily functions and in turn, a disastrous brain injury can result in long-term or permanent disability. This can affect different areas of life, such as:
Employment – Damaged cognitive or motor functions can make it impossible to continue with previous employment — or even halt the continuation of any employment at all.
Relationships – The pressure of physical and mental disabilities affects everyone close to accident victims, especially those who must look after them.
Personal care – A severe brain injury can stop a person from doing even the most basic types of routine care without help, including eating, bathing, and dressing.
The Clear Benefits of a Personal Injury Attorney in your Pennsylvania Claim
Immediate notification is vital. Make sure you report any injury or work-related illness to your employer/supervisor straight away. You should inform your employer that you were injured during hours of employment and give the date and location of where you were injured. There are a number of benefits that you may be entitled to with the help of a skilled attorney;
Payments For Lost Wages – Wage-loss benefits are equal to almost two-thirds of your average weekly wage, up to a weekly maximum. Total and Partial Disability Benefits Status can give additional information on disability status.
Death Benefits – If the grievance results in death, remaining dependants may be entitled to benefits.
Specific Loss Benefits – If you have lost the permanent function of all or part of your thumb, finger, hand, arm, leg, foot, toe, sight, you may be authorized for a specific loss award. Additionally, if your hearing has been lost or if you have a permanent disfigurement on your head, face or neck you may be eligible.
Medical Care – In the event of a work-related illness or injury, you are permitted to, if covered under the Act, the payment of related reasonable surgical and medical services rendered by a physician or other health care provider.
Victims of injury accidents are subject to the extensive costs of medical treatment and a possible lifetime of paying for personal services. However, proving responsibility under premises liability law and recognizing all past, current and future expected costs requires knowledgeable legal assistance. It is therefore important to get help and advice from an attorney with specific experience protecting the rights of the injured in these complex accident situations.
Contact our Bucks County Personal Injury Lawyers
At The Law Office of Cohen & Riechelson, our skilled personal injury attorneys aim to recover compensation for the aftermath of a personal injury. Let us fight for your case as we have been doing for over four decades in local Pennsylvania towns like Northeast Philadelphia, Bensalem, Levittown, Penndel, Millbrook, Feasterville, and all of Bucks County. Contact us online or at our Bensalem offices by calling (215) 337-4915 today to speak with a member of our legal team in a free and personal consultation regarding your Workers' Compensation personal injury claim.