The Federal Motor Carrier Safety Administration (FMCSA)
Motor Vehicle Accidents Attorneys in Bensalem, Philadelphia, Feasterville, Bristol, and Levittown PA
The Federal Motor Carrier Safety Administration (FMCSA) is the federal agency that monitors and regulates both truckers and truck companies.  Though this organization is not well like by truck companies or truckers the work they do is very important and necessary.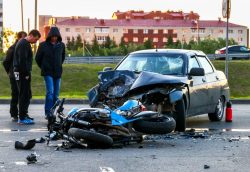 Every year there are millions of motor vehicle accidents in the United States and many of them involve trucks. Given that trucking accidents are less common than standard car accidents, negligent truck drivers and truck companies place do innocent drivers and passengers in harm's way each and every day. Due to the size of these vehicles, they often result in more damages and injuries than more common car crashes.
Though truckers, as with other drivers, can be dangerous, few would argue that they are very necessary. The United States heavily relies on the trucking industry because every city and town across America obtain the majority of their food and supplies from truckers. However, there is a percentage of truck drivers and trucking companies that knowingly and intentionally fail to follow commonsense safety practices. When truckers drive under the influence of sedating medications or drive with so little rest, they fall asleep at the wheel they put the lives of other motorists in danger. Furthermore, when truck companies fail to maintain their vehicles in safe, proper and working order it can lead to accidents caused by vehicle failures such as failing brakes or other mechanical malfunctions.
It is the responsibility of the Federal Motor Carrier Safety Administration (FMCSA) to identify and in some cases, shut down these delinquent companies.
FMCSA Mission to Report Bad Truckers and Truck Companies
The mission of FMCSA is simply to "reduce crashes, injuries, and fatalities involving large trucks and buses." To accomplish its goals, FMCSA develops and enforces safety regulations in the trucking industry. The organization partners with local, state, and federal law enforcement agencies to reduce truck-related accidents, injuries, and fatalities. They also actively Seek out and focus on carriers who have shown themselves to be higher risk. Their job also includes creating educational messages for truck drivers, trucking companies as well as the public.
According to FMCSA data, there were 3,978 fatal crashes involving trucks and buses in 2014. Between 2013 and 2014, the number of large trucks involved in injury crashes increased from 73,000 to 88,000, a 21 percent increase.
While passenger driver error shares the blame, we cannot forget that truck drivers are human and they too make mistakes. Sadly, often a trucking accident has nothing to do with a driver of a passenger vehicle but has everything to do with a negligent truck driver.
As with most accidents, there may be more than just one cause. It is often a combination of elements that can lead to an often tragic result.
Common elements that lead to trucking accidents include one or more of the following:
Fatigued driving
Speeding
Reckless driving
Distracted driving
Driving with an overloaded truck
Driver inexperience
Driving a truck that has been poorly-maintained
Aggressive driving (road rage)
Lack of vision
Turning too quickly
Lack of familiarity with the road
Driving while under the influence of alcohol, illicit drugs, prescription medications, or a combination of drugs and alcohol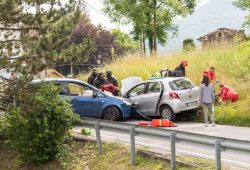 Anyone of the above-mentioned causes of truck crashes can mean tragic results either for the trucker or for another motorist. Reporting any of these violations can save lives and spare damage to property. If you or someone you know finds out that either a trucking company or truck driver is engaging in negligent behavior it is recommended that you file a complaint with the Federal Motor Carrier Safety Administration (FMCSA) as soon as possible (at latest, within 90 days from the time that you learned about the behavior in question).
You can reach the FMCSA at 1-800-DOT-SAFT or 1-800-362-7238.
Consult Our Northeast Philadelphia Truck Accident and Injury Accident Attorneys
At Cohen & Riechelson, our attorneys have extensive experience helping our clients who have been injured in all manner of motor vehicle accidents including truck accidents in Bensalem, Philadelphia, Feasterville, Bristol, and Levittown PA.
Our focus is always on effectively representing our clients and helping to make their lives and property whole again.  If you or someone you know has been injured in a motor vehicle accident please speak with our firm today in a comprehensive and confidential assessment regarding your case, please reach us at (215) 337-4915 or visit our check our online form.