"The Fatal Four" Construction Site Accidents
Construction work is a highly skilled endeavor that comes with its dangers. Serving clients in Levittown, Feasterville and across Bucks and Philadelphia Counties, PA
A 2017 report by the United States Bureau of Labor Statistics found that nearly one in every five deaths on construction worksites were caused by falls. At the time of the report, this was the highest rate since the Census of Fatal Occupational Injuries began accounting for falls in 1991.
The Fatal Four
Falls constitute only one of the "fatal four" major reasons for death on construction worksites, which account for around 60 percent of all construction site fatalities. The "fatal four" are: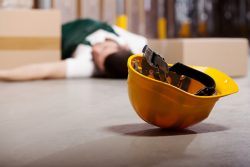 Falling
Receiving a blow to the body by a blunt object
Being crushed beneath or between heavy objects
Being electrocuted
Injury Risk 1: Falling
Studies show that a staggering one-third of deaths on construction sites come from falls. Given that many worksites have their teams operating at elevated heights, taking precautions to ensure structural safety and proper installation of safety equipment is key. The OSHA legally requires that employers review the surfaces on which their workers are operating and ensure safety. Additionally, they are required to install the necessary equipment to stabilize unstable working environments, such as
adding guardrails to slick or uneven ramps or stairs,
safety nets as necessary,
fences to prevent falling objects
straps and other systems to prevent worker falls
Injury Risk 2: Being Struck by an Object
As noted above, an employer must install such safety measures as barricades and fences to ensure that their workers cannot be struck by any falling objects. Additionally, using strict controlled access zones and enforcing hard hat areas is essential to preventing injury or death due to a blow by an object.
Injury Risk 3: Being Crushed Between Heavy Objects
Often, slips and falls are the reason for workers becoming caught between heavy objects, and often a machine malfunction or piece of caught gear causes the accident, among other dangerous and often preventable hazards. Injury from becoming caught range, of course, from mangled limbs to amputations and death. A workplace supervisor must include frequent checks of all machinery and the stabilization of heavy objects to prevent dangerous mishap.
Injury Risk 4: Being Electrocuted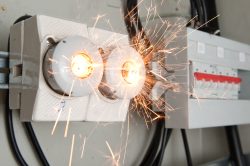 Given the variety of electrical equipment used on a construction site and the variable climates in which construction workers are expected to continue with their job, maintaining a vigilant daily review of operating systems is required. The OSHA has a number of laws regarding review measures a site supervisor is to take to prevent electrocutions.
How to Stay Safe and Prevent Injury
According to the Occupational Safety and Health Administration, many of the incidents that take the life of construction workers each day are preventable. The Bureau of Labor Statistics found in a 2011 study that 410 lives could be saved if basic safety features were installed in the workplace.
Check the Safety Features on a Site
One important consideration to make if you are going to begin working on a construction site is to check the safety features of the site before signing any contracts. Asking a workplace supervisor outright about measures that are taken to prevent injury onsite will establish an expectation of accountability for worker safety. If you have any concerns, make them known in writing at the beginning of a contract. Workplace wellness publication Health Day reported the facility with which many injury-causing perils can be identified and injury prevented, such as checking all equipment and scaffolding to ensure that it is properly secured before each workday. These simple accounting measures can prevent falls, being crushed, and being struck by loose or falling objects.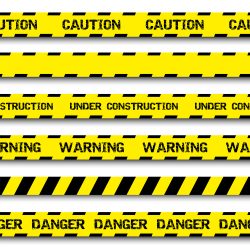 Creating a Culture of Safety can Help Save Lives
The Occupational Health and Safety Association suggests that creating a culture of safety in the workplace can make a marked effect on creating a suitable environment for productivity and physical wellbeing. Simple daily routines such as team check-ins to discuss weather-relevant safety measures for the day and review danger areas that are currently active can mean the difference between life and death. Digital reporting of changing construction site dynamics, weather patterns, and projects can streamline the check-in process and morning routines to get teams in and out effectively and safely. Additionally, ending the day with a similar check-in and accountability list is a worthy step to take before leaving the worksite.
Contact Our Feasterville Work-related Injury Lawyers Today
If you or someone you love has been in an accident while working on a construction site, it is important to seek the expert support of an accident attorney to ensure that you are justly compensated for damages related to the accident.
At The Law Offices of Cohen & Riechelson, our attorneys are experienced in supporting our clients across Bensalem, Feasterville, and across Bucks and Philadelphia Counties, PA in all workplace injuries matters.
To schedule a consultation with a member of our firm today regarding your accident, please contact us online, or by phone anytime at (215) 337-4915 anytime for a free, no-obligation consultation.