SEPTA Transit Accidents: A Passenger's Guide New Jersey
The Southeastern Pennsylvania Transit Authority (SEPTA), is a vast transit system in the state and one of the largest in the country.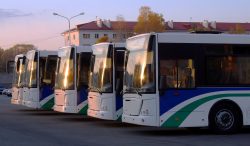 Per SEPTA's statistics, 334 million trips were taken and that shows that the public relies heavily on the service to get around Pennsylvania. SEPTA is a state agency, and special rules apply that would not apply to you and me. If you fail to follow these rules, you will inevitably lose your case against SEPTA. Even though SEPTA can be a very cheap and convenient way for thousands of people to travel around the city, we are all at risk when it comes to bens involving mass transit. There is an inherent danger for passengers riding in a vehicle without seat belts, especially when that vehicle is known for making continuous sudden stops.
Sadly, accidents happen. Whether it is on the train or bus, these accidents are often catastrophic. The causes of these accidents can vary.  If you are riding on SEPTA or any form of public transportation, it is important that you know these common facts, but also your rights so that you can be protected in the event you are involved in an accident.
Here are four facts that you need to know about accidents on SEPTA buses:
Fact One: Morning Accidents are More Common.
Most bus accidents occur before noon. This is because rush hour brings out numerous vehicles and motorists in a rush to get to work. SEPTA buses are on the streets, highways, and making numerous stops so that they may pick up people on the way to work.
Certain factors contribute to the increased SEPTA accidents in the morning, including:
Drowsy driversbens
High volumes of traffic
Buses merging onto the streets and highways
SEPTA buses running late
Fact Two: Location
Accidents do occur during the morning hours, but it also depends on the location. Many motorists fail to observe buses or understand how they operate in traffic. Typically, these accidents occur when a bus is pulling into traffic or attempting to reach a bus stop. Also, drivers ignore buses at the stop only to find that they pull out into traffic.
Fact Three: Types of Crashes are Common
Most motor vehicle-to-bus accidents are at slow speeds, but the passengers on the bus are often left with more severe injuries because they do not have restraints or protections like those in the passenger vehicle. The most common types are left side impacts and rear-end collisions, but their causes can include operator negligence, poor maintenance, and negligence on the part of other vehicles.
Fact Four: Injuries Can Happen
Bus passengers are safe during a collision. However, in high-speed impacts, they do not have the same protections. Therefore, these injuries can be catastrophic. When the bus suddenly stops, the passengers can be thrown about. These injuries can include:
Lacerations
Bruises
Internal organ damage
I Have Been in an Accident.  What Now?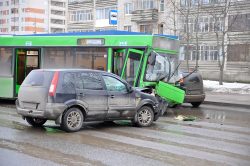 First, if you are ever involved in a bus accident, attend to your health and contact emergency services. Make sure you and anyone around you are as safe as they can be before you move on to any other steps. Verify that the police are on their way. This is, first and foremost, the job of the driver or any attendants, but they may be incapacitated.
Second, if you can take photos and document the scene directly after an accident, do so. The sooner evidence is gathered, the better. Remember to get names and contact information from any other passengers if you are on the bus. Look for possible witnesses outside of the bus, too.
Though the police will make a report and gather evidence, your first-hand account may contain critical information. Photographs taken just after an accident are also more compelling forms of evidence than witness testimony in some cases.
After you can leave the scene, make sure you and anyone that was with you is thoroughly checked over by a doctor and that their report mentions the accident and any injuries you may have sustained from it. That documentation needs to be in place for you to receive proper medical compensation. Don't put this off. Though you may have up to a week to be checked over in most circumstances, waiting even a single day can cause doubt.
Third, before you sign or accept any form of payment, take your health into account. An immediate promise to pay your immediate health bills and add a little extra to compensate for pain or lost work can be appealing. However, if your injuries persist or an underlying condition comes to light, accepting such a deal will only lead to regret. If you were injured in a bus accident, the chances are that it was severe. In the case of any injury compensation, it is best to consult an attorney immediately.
Contact our Bensalem Accident Attorneys Today
At Cohen & Riechelson we can handle all the paperwork for you and go over any possible settlement or payment offer with you.
We can also be able to help you file any additional claims or help you help get the maximum possible compensation and identify any compensation to which you are entitled. Contact us at (215) 337-4915 or contact us online.