New Car Seat Requirements to Strengthen Child Safety in Pennsylvania
Pennsylvania Has Recently Changed Their Child Safety Seat Laws Due to an Uptick in Accidents in Which Children Have Been Injured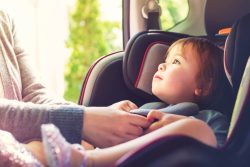 In these accidents, it was shown that the child's car seat was not appropriate for a number of different reasons. These reasons range from the seat not being big enough to the seat not being adequately fastened to the car itself. When our children are born, it can be an extremely stressful time, especially when we drive with them. Pennsylvania has tried to alleviate this stress by making the child safety seat laws more stringent.
The Tragic Statistics of Child Deaths in Car Accidents in PA
According to the National Highway Traffic Safety Administration, the leading cause of child death are car accidents. In 2019, the average number of children who died in an accident every day was 2. Think about that; two children died every day in 2019 because of inadequate car restraints. In 2020, a total of 1,093 children had died in accidents. In one year, the average jumped from 2 to 3. The average should be 0, and Pennsylvania has taken steps toward that goal.
New Rear-Facing Car Seat Requirements in Pennsylvania
For children under the age of 2, they must be sitting in a rear facing seat. It is recommended by the state that rear-facing seats be used for as long as possible because of how safe this method has proven to be. Children must sit in a rear-facing seat until they reach the restrictions set by the manufacturer for height and weight. For children between the ages of 0 and 4, the child must still be restrained by an approved car seat anywhere in the rear of the vehicle. For children between the ages of 4 and 8, the child must be strapped into an adequate booster seat. After the child turns 8 years old, they can use a seat belt, just like adults, but it is recommended to use a booster seat until the age of 12.
At What Point Should a Rear-Facing Car Seat Be Replaced With a Forward-Facing One in PA?
The National Highway Traffic Safety Administration recommends that a rear-facing child safety seat be used for as long as possible or until the child reaches the height or weight restrictions designated by the seat manufacturer. Once the child reaches the height or weight limit put in place by the manufacturer, the child needs to sit in a front-facing seat.
Are There Any Height and Weight Restrictions in Pennsylvania?
Pennsylvania does adhere to a set of standards for the utilization of appropriate car seats for children. For example, children weighing around 30 lbs should be switching to front-facing car seats until they reach 40 lbs.  Forward-facing seats should be used until the child reaches the maximum height limit set by the manufacturer or until the child reaches the weight of 40 lbs. After this, a child can use a booster seat until they reach the height of 4 foot 9 or 57 inches. After the age of 13 and if the child is taller than 57 inches,  children should be properly harnessed by a regular car seat belt in the back seat of the car.
Essential Recommendations for Installing and Using a Car Seat
In addition to the law, there are several recommendations that should be used in order to maximize the safety of the child traveling in the car. The first thing to do when installing the car seat is to read the instructions for both the car seat and your vehicle. You can also take the car seat to a fitting station, where the car seat will be installed for you properly.
It is strongly recommended that children utilize rear-facing car seats for as long as they possibly can without being in violation of the car seat manufacturer's weight and/or height restrictions. Rear-facing seats are required for children under the age of 2 years old; however, some parents may think that since the child is over 2 years old, they can switch to front-facing car seats. It is wise to keep the child in a rear-facing seat until the restriction is met due to how safe rear-facing seats are for children.
Contact Bensalem Personal Injury Lawyers for Help Suing for Compensation after a Child Car Seat Accident in Pennsylvania
As you can see by reading this article, there is a lot of emphasis placed on the standards of a child safety seat, and rightfully so. Therefore, car seat manufacturers must take extensive measures to ensure that each of the products they manufacture are not defective or dangerous for use. Retailers must also make sure that they are not selling defective car seats. If a seat is defective, a child can be seriously or fatally injured.
Having an accomplished attorney is essential in knowing who to sue, what to sue for, and how to make sure you get what you are owed after an accident involving a child's car seat that may have been defective or malfunctioned in its operation. Suing for emotional distress, pain and suffering, your child's physical injuries, your medical expenses, lost income due to missed time from work while caring for your injured child, as well as any other costs associated with the injury, can only be successful when using the right lawyer for the job.
If you have questions regarding a car accident injury or similar situation related to your child's car seat in Fairless Hills, Yardley, Doylestown, Levittown, Croydon, Philadelphia, Bucks County, or another part of Pennsylvania, contact (215) 337-4915 for immediate assistance. We provide free consultations and are pleased to answer your inquiries in this complex, emerging area of law.