Identifying Negligence in Gym Accidents
What Begins as a Way to Improve Your Health Could Result in an Gym Accident Injury Claim Due to Negligent Conduct in PA.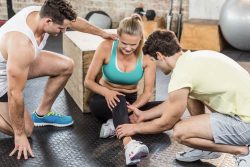 With the passing of a new year, a common theme throughout the world is this idea of a goal we intend wholeheartedly to complete by the passing of that year. Most often, we say that our New Year's resolution will be going to the gym. Some of us will go for a month, while a small minority of us will actually make a habit of going to the gym for the full year.
Common Statistics Surrounding the Fitness Industry
In 2019, it was estimated that 64.2 million Americans belonged to a gym or health club. The fitness injury, specifically gym memberships and online subscription memberships, is worth billions of dollars per year and it is growing. In 2021, there were 3.2 million injuries related to sports and gym equipment.
What Injuries can Occur in Gym Accidents and How are they Caused?
Defective equipment can cause muscle and tendon sprains, injuries to the knees, cuts, abrasions, and scrapes. Injuries can even include the eyes, face, head, neck, spine, and brain. However, these are seemingly obvious injuries. Unsanitary conditions in the gym can lead to contracting different diseases, such as ringworm or worse.
Some of the more common injuries taking place at a gym or sports facility include failing to ensure sanitary conditions, such as keeping locker rooms, restrooms, and showers clean and free of any disease, viruses, and infection, failing to caution members of hidden unsafe conditions or failing to maintain reasonably safe premises (ex: slippery floors).
Other injuries can arise from the gym failing to maintain a safe environment and not inspecting gym equipment or machines. Faulty or defective gym equipment is probably the most common cause of injury. Even keeping the machines too close together has been known to cause injury. Gym staff must keep up with inspection and proper maintenance of their facility.
How to Proceed After Getting Hurt at a Gym
The first thing to do after being injured at a gym or sports facility is to notify staff immediately and make sure not to sign anything they may ask you to sign. Then, it would be prudent to then immediately seek medical assistance. Having medical records at your disposal can prove to be very useful later on if a trial ensues, and they can even be helpful in settlement negotiations.
How Can I Determine if I Can Sue the Gym Owners for My Injury?
The owners of the gym or sports facility and their management team must take precautions in maintaining a reasonably safe facility for their patrons to frequent. Any facility found to be less than reasonably safe, or kept in poor condition, can surely lead to liability for the gym owners and their staff. Any hazardous conditions must be prevented or remedied by management and owners. If any unsafe conditions have not been addressed or immediately fixed, gym owners and their staff must warn any patrons to be careful and to avoid the hazard.
This rule of thumb in premises liability will serve you in proving that the gym owners and/or their staff has been negligent and, therefore liable to you for any injuries you may have incurred while at their facility. A common oversight by the owners of the facility you attend can be as simple as not cleaning up the workout area or maintaining the equipment. Due to the nature of the business, owners must make sure their staff is doing everything they to maintain a safe place to work out.
Compensation Options Even if I Signed a Waiver of Liability
Liability waivers can be a big obstacle if you signed one when you gained membership to the gym. However, courts have often found these waivers to be too vague and unenforceable in some respects. The only chance you may have at overcoming a liability waiver is to retain an experienced attorney. Experienced attorneys can argue against the enforceability of the waiver, which would then allow you to sue the gym or sports facility for negligence.
Can the Gym or Sports Facility's Employees Share Responsibility?
Employees of a gym can be held liable if they exhibited gross negligence or any deviation from what is expected of their employment. Many trainers, and gym staff, are hired based on what their experience is. They are held to a standard of care, as is the property owner. Trainers, especially, must take care of you while you are training under their supervision and instruction. Any exercise of gross negligence on their part can help to ensure their liability.
Suffered an Injury at the Gym? Trust Our Northeast Philadelphia Gym Accident Attorneys with Seeking Compensation
It is nothing less than imperative that you retain an experienced personal injury attorney, or else you may never be heard in court. Liability waivers are a very hard difficulty to overcome in Northeast Philadelphia, Bucks County, and throughout Pennsylvania. However, an experienced attorney can see the faults in even the most seemingly secure liability waivers. Our highly skilled personal injury lawyers at Cohen & Riechelson have been handling gym accident cases and gym-related injuries resulting from negligence for decades. If you have been injured in a gym accident in Bristol, Bensalem, Philadelphia, Doylestown, Fairless Hills, Croydon, and elsewhere in Pennsylvania, call us at (215) 337-4915 for a cost-free review of your potential claim and how we may be able to help secure you just compensation.