Bucks County Dog Bite Injury Claims, Do I have to sue my neighbor?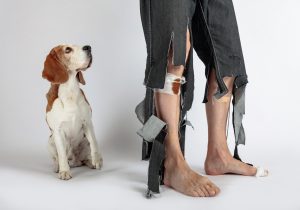 Dogs really are man's best friend and a source of love and companionship for many. Despite this it is important to be aware that even the friendliest of dogs can bite or attack with no obvious provocation, and cause serious personal injury. Dog bite injury victims are often hesitant to pursue compensation for their injuries as they do not want to sue a friend, neighbor, or even a family member. However, under the right circumstances, dog bite injury victims can safely pursue compensation for their injuries without financially endangering the dog owner themselves because dog bite is usually a premises liability issue.
At Cohen & Riechelson, our attorneys have obtained millions of dollars from settlements on behalf of injured victims, combining our compassionate, understanding and an attentive approach with experienced advocacy. Since 1972 we have earned our reputation for success and service among insurance companies, lawmakers in communities such as Bensalem, Northeast Philadelphia, Levittown, Feasterville, Millbrook, Penndel and all over Bucks County.
Animal Bites and Homeowner's Insurance Bensalem PA
If a dog bite occurs at a friend or family members home many people are hesitant to seek compensation for expenses that may include medical bills, loss time from work as well as other potently serious personal injuries. However unknown to many, dog bite injuries are generally covered under the homeowner's insurance policy; or other property owner policy if not private property.
For dog bites that occur on public property, the premises liability insurance provider of that property would be responsible for compensating your damages. If the dog bite occurred on private property like a home or residence, you can seek compensation from the property owner's homeowner insurance provider. This allows you to seek the compensation you deserve even when the dog bite occurred on a neighbor or friend's property, without worry about any expense to your neighbor or friend.
Animal Attack Claims Navigated by Northeast Philadelphia Lawyers
Dog bite personal injury claims have a distinct advantage over other personal injury claims in that there is not need to prove fault or negligence.  However, private property owners may contest the idea that the injury victim was legally on the property and as a result attempt to deny compensation.
The question of the legal presence of the victim on the property where the dog bite occurred is very important. If the dog bite occurred on public property, it may be fairly straightforward to recover compensation from that property's insurance policy. On the other hand, if the dog bite occurred on private property, the victim will need to prove that they were invited onto that property, and were not trespassing on that property when the dog bite occurred.
While we have already noted that the victim does not need to prove fault in order to recover compensation, it may be possible for the property owner to prove that the dog bite victim antagonized the dog, or acted in such a manner that provoked the dog to attack. There may be false or misleading evidence presented against you during the process. This is why having an experienced Penndel dog bite attorney as your advocate during this process can be crucial.
Contact Our Bucks County Dog Bite Premises Liability Attorneys Today
At Cohen & Riechelson, our personal injury attorneys believe in the law and its ability to help give fair compensation to injured victims. Since 1972 we have been dedicated to ensuring that our clients in the Bucks County area and across Pennsylvania recover just compensation and help to make their lives whole again. Our highly knowledgeable attorneys are prepared to assist you with your dog bite or personal injury claim. Contact us online, or by phone anytime at (215) 337-4915 anytime for a free, no-obligation consultation.