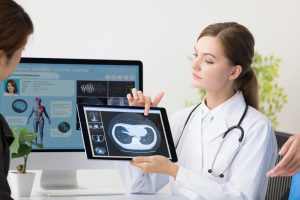 Any accident can be devastating to you and your family. Pain and suffering and loss of income are just some of the after-effects that may bring serious changes to your life. After a serious accident, considering a personal injury claim is only one small way victims can protect themselves and their families.
It is essential that victims visit a doctor as soon as possible. This will not only provide you with the diagnoses, treatments, and assurances that you need to get on the road to becoming whole, but may also become the basis of a personal injury case down in the future. Even if you  feel "okay" after an accident, it is critically important to understand that many injuries have delayed symptoms which take days, weeks, or even months to manifest.
Whether you have been injured in a slip and fall accident, motor vehicle accident, construction accident, defective product accident, or any other type of accident, it is important that you understand the risks and implications of delayed injuries and their symptoms in order to protect your health, and you and your family's finances and well-being.
Delayed Physical Injury Lawyers Penndel PA
The most common explanations our Penndel serious injury victims' attorneys hear from individuals not seeking an immediate medical diagnosis and treatment is that victims feel "fine", or "not that bad".  Though this may be true at the time, seemingly minor symptoms can be the result of serious underlying injuries. Instead of risking further harm, it is always recommended that you see a doctor after an accident.
Below are some common symptoms and the underlying medical issues which can be the cause:
Back pain – probably the most common type of injury after trauma include spinal cord injury, pulled muscle, whiplash, etc.
Headache- brain injuries are among the most difficult to diagnose because symptoms are wide reaching and difficult to diagnose accurately. Constant and continuing headaches can be caused by brain damage, concussion, blood clots, and more.
Abdominal Pain – often thought of as a simple stomach ache, abdominal pain can be a sign of internal bleeding or organ damage.
Neck and shoulder pain – issues with tendons and ligaments, muscle issues, spinal injuries, whiplash, etc.
Loss of sensations (numbness) – potential sign of nerve damage, spinal cord injury, slipped disk or herniated disk, and more
Mental Health Issues Following a Traumatic Accident in Bucks County
Suffering a serious injury can lead to a multitude of mental health issues in addition to physical effects. Often ignored, Psychological issues and after-effects can lead to equally serious complications for victims. Individuals who have been involved in a traumatic accident are advised to watch for the following signs:
Memory issues
Mood swings
Dizziness
Confusion
Increased heart rate
Difficulty sleeping
Nightmares
It is important to recognize any thoughts or feeling that are abnormal for you.
Any and all of the above symptoms can be caused by mental health issues such as PTSD, anxiety, depression as well as others. In addition, they can also be symptoms of concussions or other forms of serious brain trauma.
In short, it is unwise to ignore symptoms which you or a loved one may experience after an injurious or traumatic accident, no matter how seemingly insignificant they may initially appear.
Seeking medical and medical diagnosis and necessary treatment is always a great idea. In a worst case scenario a medical or mental health professional will confirm that you are free of serious injury.  However detecting serious injuries early can help you on the rode to a full and rapid recovery as well as provide a strong foundation for any civil action that will help minimize the financial affects or your injury.
Contact Our Bensalem Delayed Injury Lawyers Today
Our talented personal injury attorneys have years of experience assisting clients who suffer injuries at work, in local businesses, at residential properties, and on roadways across Pennsylvania. We have successfully resolved cases that include:
For more than 30 years, the experienced and talented team at Kamensky Cohen & Riechelson has stood with our clients and their families, seeking to help them recover and begin rebuilding their lives after an accident or traumatic event. With New Jersey Certified Trial Attorney, Senior Partner, and consistently named "Super Lawyer" Jerrold Kamensky at the helm, our firm has worked to ensure that our clients receive just compensation for their injuries. In order to begin devising your legal strategy, it is essential to understand all of your options. Contact us today at (215) 337-4915 for a cost-free consultation.