Common Types of Accidents during the Holidays
The holiday season is finally here! And it comes along with decorations, special food, Christmas presents, and trips to meet with family. Unfortunately, sometimes it also comes with season-related accidents.
Everyone enjoys the holidays.  It's a time to visit with friends, exchange gifts, and reminisce about time past.  There's plenty to eat and drink and decorations to hang up.  But anyone who works in the emergency room can tell you that the two weeks before Christmas through the New Year is their busiest time of the year.
Dangerous Decorating in Bucks County PA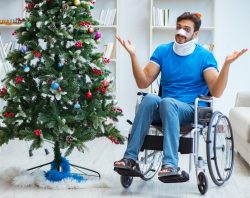 At the top of the holiday accident list are all things decorative.  Those holiday scenes made from thousands of little lights sure do look pretty, but setting them up has led to many a fall from the top of a ladder or even the roof of a house. On average, in 2018, about 200 decorating-related injuries occurred each day during the holiday season, half of which were falls. Others were for electrocutions due to faulty lights, over-use of extension cords, and standing in snow or water when receiving an accidental electric charge. Accidents while decorating a Christmas tree can produce injuries as well. Dropping a glass ornament and accidentally stepping on it can mean stitches.  Using outdoor lights inside can cause the bulbs to overheat.  It is also important to keep pets away from plants and trees to avoid them from eating something poisonous. In the 2018 holiday season, emergency rooms treated 17,500 patients for decorating injuries.
To keep safe, here are a few tips: 1.  Make sure your ladder is tall enough to reach well past where you want to hang your lights. 2.  Check your light strands and bulb holders for frays or cracks. 3.  Place extension cords out to the away to avoid tripping over them.
Tis the Season For House Fires in Philadelphia
A dry tree and some old lights can turn into a fire in no time. Almost half of holiday time fires originated with the Christmas tree. Fake trees can burn up just as fast as a live one. Other fires were related to candles and portable heating units or children playing with matches or lighters. Fireplace-related accidents were fewer, but still, a place where one can get hurt. The National Fire Protection Association (NFPA) says that every year firefighters in the U.S. are called to between 800 and 900 fires related to holiday accidents during 2018 causing.
The kitchen is also a place for burns and scalding.  Over 100,000 people seek medical attention every year for scalds and burns in the kitchen. Bubbling, hot gravy accidentally knocked over can create a nasty burn. Grease fires should be extinguished with flour. A hot stove should never be left unattended.
Deep-fried turkeys have been popular lately, but many precautions must be taken because they are dangerous.  Dropping a huge turkey into a cylinder of hot grease takes concentration, and the instructions must be followed to the letter. It should always be done outside, but some try to fry in the garage and end up starting a house fire.
To prevent fires in your home during the holidays:  1.  Place lit candles where they cannot be knocked over.  2.  Unplug all decorative lights before going to bed.  3. Clean the fireplace and chimney at least once a year.
Spread Good Cheer, Not Salmonella in Bristol
Food poisoning is substantially more common than people realize.  Every year nearly 50 million cases are reported.  Those most at risk are the elderly, children under the age of 5, pregnant women, and anyone whose immune system is compromised. Symptoms such as vomiting, diarrhea, chills, body aches, and sweating are common when suffering from food poisoning. These symptoms could last for up to 21 days but usually subside after a week.
According to the CDC (Center For Disease Control), 80% of the 48 million food poisoning incidents in 2019 were traced back to unsafe practices in the home. More than 400,000 were hospitalized, and 79 patients died. Inappropriate food storage represents 30% of the reasons people get sick.  Food is left out for family and friends to snack on from lunch until dinner and isn't put away until late when the bacteria and pathogens have already begun to make themselves at home in the stuffing and mashed potatoes. Cross-contamination at 20% is another common no-no despite its being mentioned on holiday cooking shows and videos. Cutting raw poultry on a cutting board and then using that cutting board to chop vegetables or slice the now cooked poultry can contaminate both the bird and the veggies. The most common way at 50% of all of the cases to spread food poisoning is through improper hand-washing.
If you want to avoid getting sick this holiday:  1.  Wash your hands before, during, and after preparing food.  2.  Use a different cutting board for proteins and vegetables or fruits, and 3. Store foods no more than 2 hours after having been prepared.
Treacherous Travels in Croydon, Pennsylvania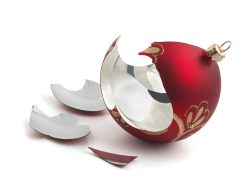 According to AAA, 9 out of 10 people will travel at least 50 miles to spend time with family during the holidays. There are many factors that cause the number of car accidents to increase during the holidays.  Of course, most folks immediately think of someone who is driving under the effects of alcohol or illicit substances.  While sometimes drivers who have accidents have had too much Christmas or New Year cheer, it is not the only reason for frequent accidents.  Bad weather conditions such as ice, sleet, and snow came to make driving conditions downright dangerous.  Everyone wants to spend the holidays with their loved ones and frequently takes the risk of driving in bad weather to do so.
To stay safe this holiday: 1. Have patience in heavy traffic; everyone wants to get where they need to be with the same urgency as you do. 2. Drive the speed limit, and 3. Avoid driving in adverse weather conditions.
If You Have Been Injured during a Holiday Accident, seek the experience of a Personal Injury Attorney in Bensalem, PA.
If you believe that someone else is to blame for your injury in an accident during the holiday season in Pennsylvania, you should contact a personal injury attorney as soon as possible.  Don't wait for evidence from your case to disappear. Be sure to get adequate medical attention and follow all of the doctor's instructions while maintaining as much documentation as possible and consulting with an accident lawyer as soon as you can. Don't let medical bills pile up and ruin your credit.
At Cohen & Riechelson, our dedication to our clients is our calling card.  Our top-notch team of Pennsylvania holiday accident injury lawyers knows just what to do to give you the answers you need and provide peace regarding your future.
If you live in Bristol, Horsham, Buckingham, Yardley, and places nearby Northeast Philadelphia & Lower Bucks County, Pennsylvania, call us today at (215) 337-4915 to schedule your free confidential consultation or look for us online. Let us get you on your way to healing and recovery with maximum financial compensation supporting your restoration.